The game of the waltz of the seasons !
Discovering the potential
spring ,
With spring's arrival the days lengthen and the revival reappears. Slowly but surely as the new sap fills us with new hope, the vine starts to relive. The buds swell and the vine cries. Little by little the winter desert is filled by birds 'song as well as the clicking of the secateurs, which like scalpels cut in its flesh to keeping nothing but the strictly necessary.
Spring also brings the first rays of sunshine which give us back life, and we watch the vine to discover the potential. As days go by, buds explode; leaves spread out and give us a preview of future bunches. It is a time of hope. As spring brings the first warm days, winter dies. Sometimes by taking too long to leave us, it makes us live the anguish of the grieving morning.
The pleasure of smells
summer ,
Like a fishing rod, the vine unfolds itself and grows. Not long after the red moon, summer arrives. We run from vineyard to vineyard, rushing things.Dawn and dusk have something magical at this time. Over the hillsides a sensual fragrance lingers – the vines are flowering.
It is the season of smells; the smell of the soil after a thunder storm, the smell of the vine after each trimming session, the smell of sunburned grass, the smell of work well done after a beautiful day spent in the warm summer sun.
The must and the flavours
The flower makes place for the grape bunches, who bask in the summer sun and soak up all the sugar for the future harvest. As soon as we realize that the days shorten and the sensibility of the year begins to write itself, the vineyard takes on a false lethargy. The estimations of the vintage become our prime preoccupation.
At that time we live in tune with Mother Nature's vibrations.  The September sun warms up the soil and the chalk, which ripens the grapes. The first fogs envelop the vines with morning coolness. At the end of September the herds run from vine to vine. In a few days, in a few hours this little world will bring in the harvest and confine it to the winemakers, but that is another story…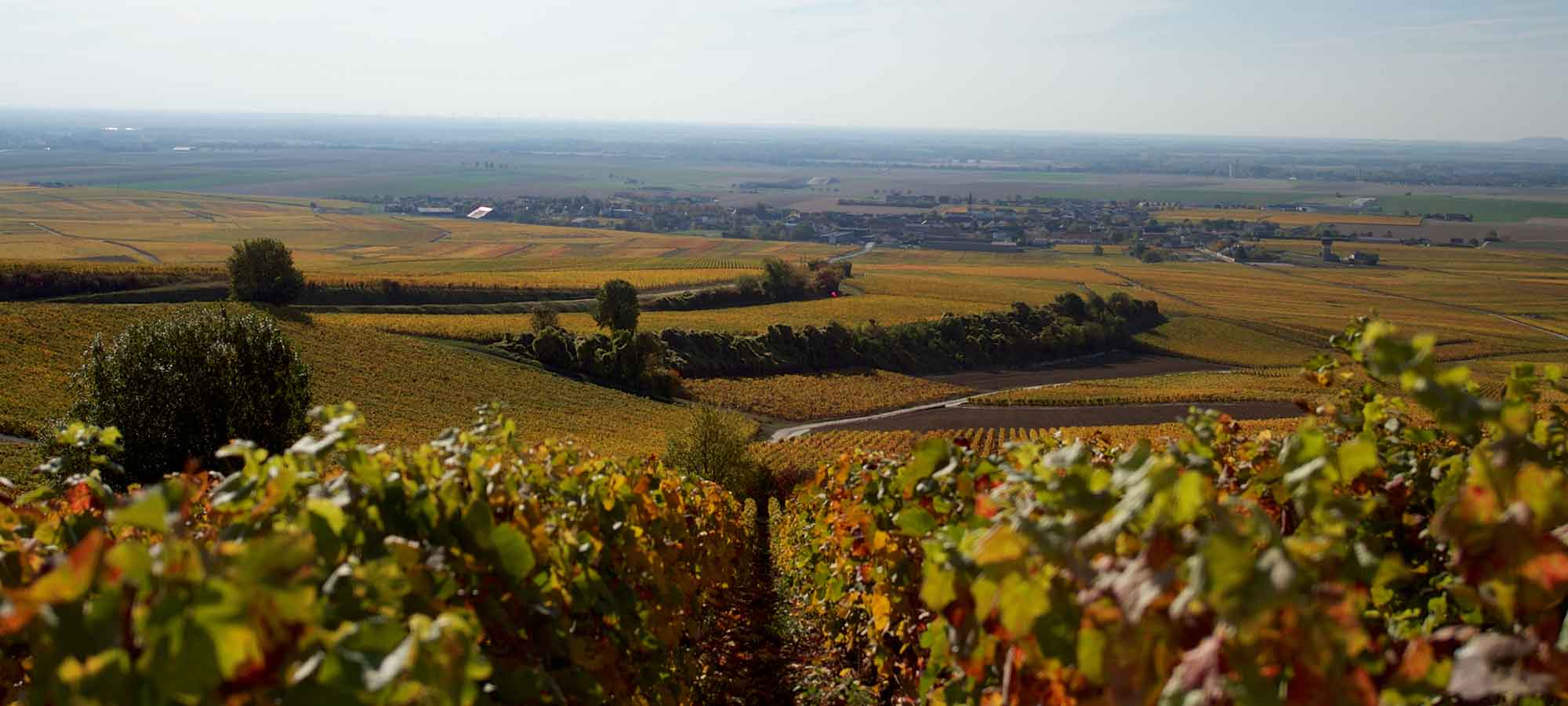 The lonely song of the wind
winter ,
As the first frosts arrive, the plant functions will fall asleep to finally leave a little time to the weather. The multi-coloured vine coat becomes monochrome as the leaves are blown away by the wind.


The vine undresses and shows us her structure. Winter quiet slowly invades our meandering hillsides and even if we visit them from time to time, we busy our self by welcoming you. The holiday season arrives; and with it "the new year", where just as we did the previous year we once again take the road of a new vintage.